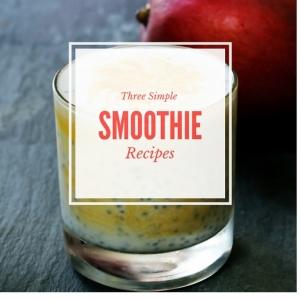 I'm just going to keep it simple. I know that there is a lot of health information out there which can be fatiguing. In order to avoid the overload I wanted to share some basic recipes that we use that don't require a lot of thought when it comes to making smoothies.
Generally speaking: Pineapple and banana cover a multitude of sins and ice and a straw really help. Don't ask me why…but smoothies have got to be cold for my liking…and downing my green smoothie without a straw feels like it's just asking way too much from me.
First off: One of our family faves. This is our DIY "Wendy's Frosty" inspired by this recipe found over on Cookingclassy.com
2 Frozen bananas  or regular bananas and add 3/4 cup of ice
3/4 cup of almond or coconut milk
2 T of chia seeds
1/4 cup of peanut butter
1/2 tsp of vanilla extract
2 Tbsp of cacao powder
Optional: 1-2 tsp of honey or a few dates.
Blend and serve….this is one of our pre-workout shakes that is also a good treat for the kiddos.
Second: Carrot Mango Smoothie– this recipe is inspired by Super Healthy Kids which has some great ideas for keeping life healthy with kiddos.
1 1/2 cups of almond or coconut milk
2 carrots
1 cup of frozen mango chunks
1 frozen banana
Optional add ins: ginger, turmeric, cinnamon
Here's a carrot ginger smoothie inspired by this recipe over at The muffin myth: 
2 carrots, scrubbed and peeled if desired, cut into chunks
1 apple, cored and sliced into quarters
1 chunk of fresh ginger about the size of your thumb, peeled
½ tsp ground cinnamon
1 – 1½ cups cold water