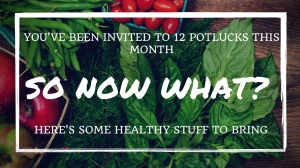 Tis the Season for 10,000 potlucks. Do you have a month full of parties ahead? We all can admit that it's tough to keep the pounds off during the holidays. The average American actually never loses half of what they gain during the holiday season. The reason for the weight gain? If you haven't noticed, holidays are being celebrated for days before and after the holiday itself, and why shouldn't we? In an effort to enjoy the triple booked season ahead of me, I went on the hunt for some healthy potluck recipes. For me, half of the battle to this healthy eating thing is is hunting down the recipe.
Research from Cornell University shows that we make up to 200 decisions about food a day. I really dig the book Slim by Design by Brian Wansink, Phd. This book touches on how, often, we are hard on ourselves because we don't have the "willpower" to make the right choices. BUT…when we're faced with so many choices every day then we're inevitably going to blow it. This book is about strategizing places and spaces: from your home, your kitchen, your workplace- even your grocery cart to set yourself up to make good decisions. That being said…bringing something healthy to a potluck is a small piece of the puzzle of decent decision making. So I've been on the hunt to find recipes that are simple and whole foods based.
Honestly, just writing this post exhausted me. If you have "food fatigue" and really just want to make the right choices…and then get overwhelmed by all those darn choices…well- you're not alone. Here's a compilation of things that I've found. Sometimes "simple" takes forever to hunt down. WHY?? Anyway- I'm going to add to this as I find content.
First off: Appetizers…I feel like this is an entire post on it's own.
Caprese Salad Skewers from Stuckonsweet.com

Salads:
I was inspired by this antipasta salad recipe here on the food network. Here's what I especially love: Cooking time: NONE.
Here are the tweaks I made from the original recipe:
2 Heads of Romaine Lettuce, chopped
1 can of artichokes
1/2 jar of greek kalamata olives
1/2 cup of pepperoncini
1-2 cups of cherry tomatoes
8 ounces salami or pepperoni or both,
Red Wine Vinaigrette:
1/2 cup red wine vinegar
3T lemon juice
1 t honey
1 t salt and freshly ground black pepper
Read more at: http://www.foodnetwork.com/recipes/giada-de-laurentiis/italian-antipasto-salad-recipe.html?oc=linkback
1 15-oz can cannellini beans, rinsed and drained
1 15-oz can kidney beans, rinsed and drained
1 15-oz can garbanzo beans, rinsed and drained
1/2 red onion, chopped fine (about 3/4 cup), soaked in water to take the edge off the onion
2 celery stalks, chopped fine (about 1 cup)
1 cup loosely packed, fresh, finely chopped flat-leaf parsley
1 teaspoon fresh finely chopped rosemary
1/3 cup apple cider vinegar
1/4 cup granulated sugar (more or less to taste)
3 Tbsp olive oil
1 1/2 teaspoons salt
1/4 teaspoon black pepper
Garbanzo Bean Salad
Read more: http://www.simplyrecipes.com/recipes/three_bean_salad/#ixzz4RXdA4UMb
1 15-to 15 1/2-ounce can chickpeas (garbanzo beans), rinsed, drained
2 tablespoons chopped fresh basil
2 tablespoons chopped fresh Italian parsley
2 tablespoons fresh lemon juice
4 teaspoons extra-virgin olive oil
1 small garlic clove, pressed
1/3 cup (packed) freshly grated Parmesan cheese
Coarse kosher salt
Side Dishes:
Honey roasted carrots- simple ingredients and tasty! From Greensnchocolate.
Roasted Asparagus WITH BACON I haven't tried this one but Leigh (my sister) over at Root and Vine Wellness says it's amazing….
Green Beans from the pioneer woman…..these aren't simple or probably healthy…but they're green beans and they'll have you dying for more.
Desserts:
I loved this recipe for Vegan Peanut Butter Date Caramel from Kimberly (a wonderful Dietician I get to collaborate with) over at Craplikeachamp.com!
I also just made these Vegan Brownie Bites today. Check out more
Here are a few party tips if you don't even want to think about bringing a dish to to a party.
Boost your meal with fruits and veggies. What does this mean? Load up your plate with half veggies because most of them are loaded with fiber. Fiber aids in digestion, stabilizes your blood sugar, and keeps things moving. If you're wanting to go for the "other stuff" just try to balance it out with some of the foods that will counteract adverse affects of eating junk.
Stay hydrated
Eat before you go (this doesn't work for me because I'll eat twice then, but it may work for you!
Please share in the comments below if you have favorite healthy potluck recipes that are simple and relatively healthy.